Glundr
This excellent Bed & Breakfast once began as 'just a nice place to get together with the family'. You can still feel that personal attention that you get with family seeping through into everything if you stay overnight in this luxurious hospitality location in Asten. Plunge into the comfort of one of the seven suites, experience ultimate relaxation in the private wellness facilities, or allow yourself to be surprised by a top chef who will prepare a fantastic private dinner on location for groups of eight to fourteen people. Glundr! usually receives couples who want to get away from it all and want to enjoy luxury and peace and quiet in a hospitable and relaxed atmosphere. According to the following comment by Melissa, Hostess Ivon excels in this: "I have never fe…
This excellent Bed & Breakfast once began as 'just a nice place to get together with the family'. You can still feel that personal attention that you get with family seeping through into everything if you stay overnight in this luxurious hospitality location in Asten. Plunge into the comfort of one of the seven suites, experience ultimate relaxation in the private wellness facilities, or allow yourself to be surprised by a top chef who will prepare a fantastic private dinner on location for groups of eight to fourteen people. Glundr! usually receives couples who want to get away from it all and want to enjoy luxury and peace and quiet in a hospitable and relaxed atmosphere. According to the following comment by Melissa, Hostess Ivon excels in this: "I have never felt so welcome as here: Ivon makes everyone feel at home. Staying here overnight is highly recommended!!"
De Groote Peel National Park
Just three kilometres from De Groote Peel and only 200 metres from the fish pond and walking route in De Witte Bergen (the White Mountains), you practically step right into the countryside when you leave Glundr! Glundr! is also along a cycling junction route, which means you can charge your e-bike here. It also makes the castle ruins, only a few kilometres away, or the Museum Klok en Peel, which is a bit further away, easy to reach by bicycle. If you prefer to take a swing at a ball, Glundr! is literally opposite the Golfbaan het Woold.
At home (far) away from home
The combination of luxury, ultimate hospitality, a high-quality finish and real attention creates a wonderful atmosphere – a lovely bubble in which you experience the warmth, privacy and genuineness during an overnight stay, meeting, wedding or event. A location with such character is, of course, also the ultimate wedding location. Many a newly married couple has stayed in the luxurious master suite on their wedding night, where there is a clear view of the starry sky from the bathtub. Guaranteed romance ...
So come enjoy, relax, be yourself, come and glow!
Location
Take a look
Reviews
Read the experiences of other visitors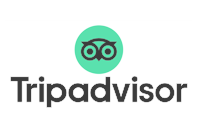 View the reviews of previous guests at this location.
View all reviews on tripadvisor